Mist blower L3Evo
Powerful, professional and easy to use

NB - not available in Europe except L3EvoEU
Cifarelli L3evo is the professional mist sprayer used by farmers all over the world for treating their crops.
Available in models
L3Evo
L3EvoEU
L3EvoW
Compare the models
Maximum horizontal range

17 m

Maximum vertical range

15 m

Average drops size

Ø 120 µm
Find a distributor
Download the product brochure
Ideal For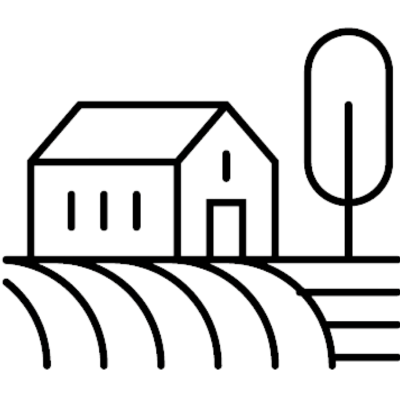 Agriculture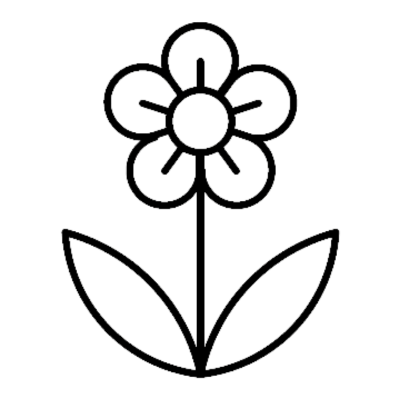 Gardening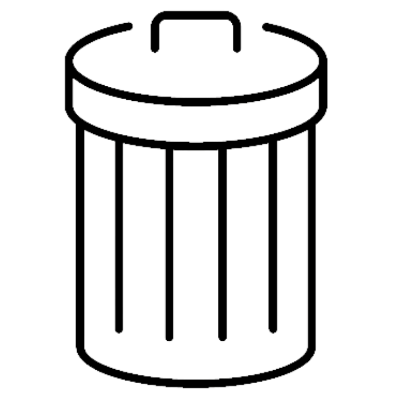 Urban hygiene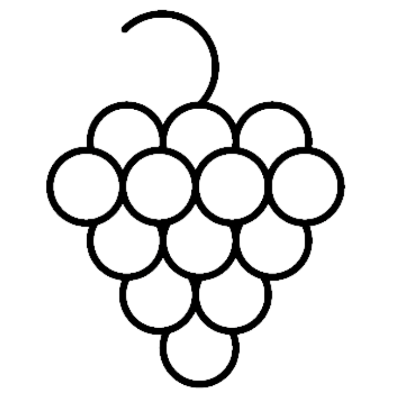 Treatments
Features
Learn more about our products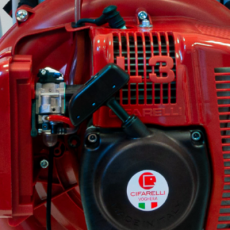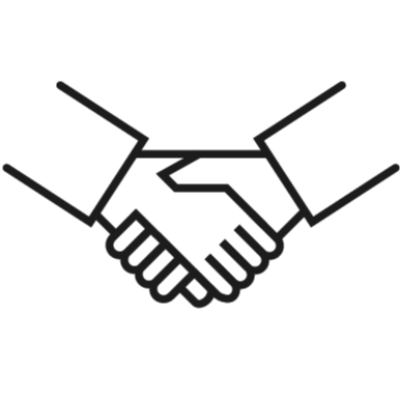 Reliability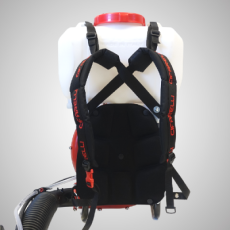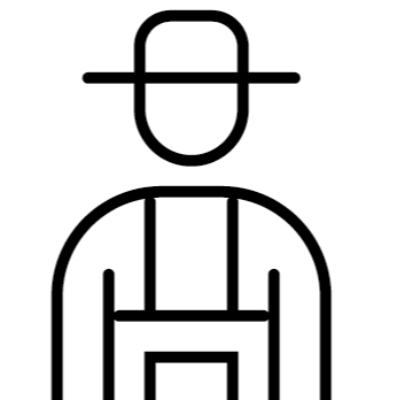 Ergonomics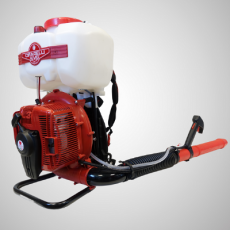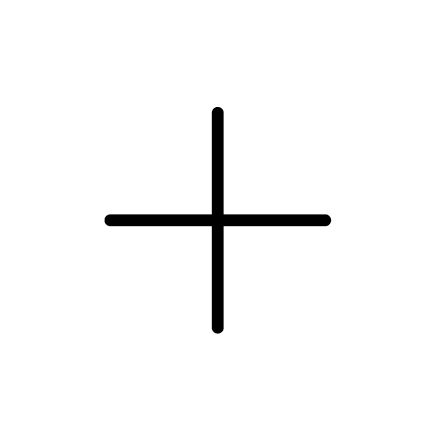 Wide range of accessories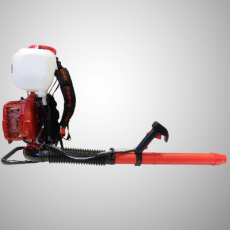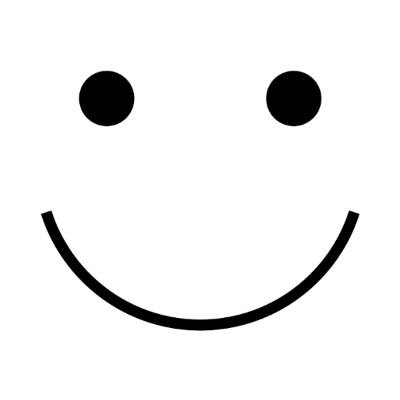 Easy to use
Technical specifications
| | |
| --- | --- |
| Engine | C7, 2STR |
| Displacement | 77 cc |
| Maximum power | 3,6 kW (5 HP) |
| Air volume | 20 m³ /min |
| Air speed | 125 m/s |
| Liquids tank capacity | 12 l (3,17 US Gal) or 18 (4,75) |
| Liquids outflow | 0 - 3,6 l/min |
| Maximum horizontal range | 17 m |
| Maximum vertical range | 15 m |
| Average drops size | Ø 120 µm |
| Fuel tank | 1,9 l |
| Weight | Without pipes 10,62 Kg, With pipes 11,36 Kg |
| Packaging | 49 x 74 x 38 cm |
Why choose Mist blower L3Evo
Cifarelli started out with the mist sprayer, a product for which we are famous all over the world. L3evo is a new evolution of the L3E, a machine dedicated to professionals that insures great autonomy, working capacity and comfort.
This new version offers several improvements compared to the L3E model:
Aluminium frame (lightweight and rust resistant)
New backrest (more comfortable)
Special shoulder straps with support (more ergonomic for long use, machine better supported)
New tank options available with a capacity of 12 liters for those who want a more compact machine or 18 liters for those who prefer the autonomy
Great configurability
Features
Long life and reliability: if you work every day in difficult areas, the reliability and durability of the machine are key elements of the selection. Thanks to the longer life, the total cost of the machine in the medium-long term is considerably lower than that of a machine that comes at a lower price, but that, if used daily, will have to be replaced very often.
Easy to use: L3evo is a machine for professionals, but at the same time it is very easy to use, as only the accelerator and tap need to be adjusted.
Easy to maintain: no frills, with open float chamber carburetor and unified bolts: the entire machine can be dismantled by using a single spanner.
Broad operating range: the powerful 5HP engine and the ventilation system ensure a very wide range: up to 17 meters horizontally and 15 meters vertically. The treatment is thus up to three times faster compared to low-power machines. Furthermore, the option of using it even with the pipe in a vertical position, combined with the considerable range, also enables you to treat tall trees.
High autonomy in its version with 18 liters liquid tank.
Comfortable thanks to the padded cushion and wide adjustable padded shoulder straps, both with a fabric finish.
Effectiveness of treatments
The mist sprayer allows for low-volume treatments. The uniform size of the dispensed drops, combined with the action of the air that moves the leaves, ensures effective and uniform protection on both sides of the treated surface.
Using the mist sprayer significantly reduces the use of water and chemicals. Indeed, compared to traditional shoulder-carried or motorised pumps, the treatment with the mist sprayer prevents waste due to dripping because the product is more concentrated and micronised.
Easy maintenance
For operators who work every day in the field, quick and easy maintenance is essential. This mist sprayer has an open float chamber carburetor for fast cleaning and a simplified disassembly scheme.
The single head of the bolts allows the entire machine to be dismantled by using a single spanner. All this makes it possible to intervene in an easy and timely manner even when working in difficult areas.
After-sales support
Our distributors offer an accurate after-sales service, with the immediate availability of spare parts, to prevent delays in the treatments carried out by professionals.
The quality is guaranteed by a machine entirely designed and manufactured made in Italy with the best materials and a specialized workforce.
Distribution
This mist sprayer model can only be sold outside EU and USA; for these areas we offer the M1200 mist sprayer, the most advanced professional machine of Cifarelli technological research.
Configurability
Depending on the markets the L3evo series atomizers are available with:
hook-and-loop or self-winding
tank carburetor or with diaphragm carburettor
gas lever on frame or handle
12 or 18 litre tank
Available in models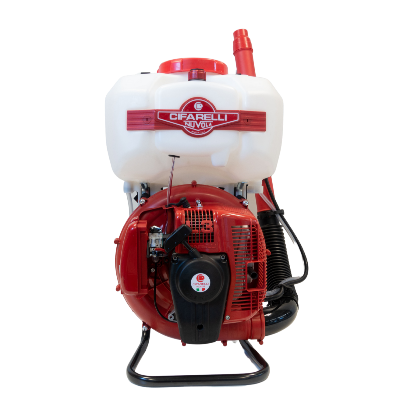 L3Evo
NB - not available in Europe except L3EvoEU
Cifarelli L3evo is the professional mist sprayer used by farmers all over the world for treating their crops.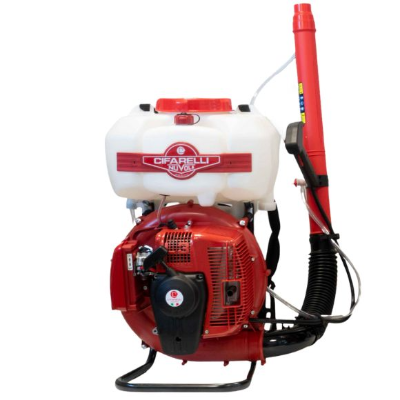 L3EvoEU
After the great success in countries outside Europe, the L3Evo mistblower is available in the CE version for all European countries.
L3Evo Europe is a compact machine thanks to the 12 l liquid tank that allows you to move easily on any terrain.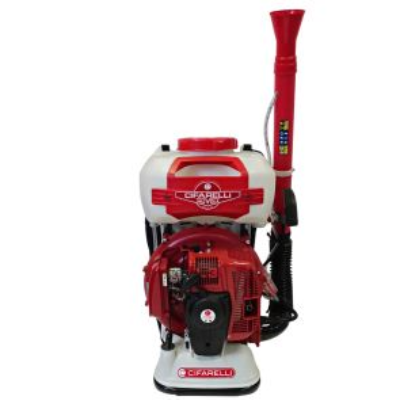 L3EvoW
The machine FULLY COMPLIANT with the requirements of the standard "Equipment for vector control specification guidelines, 2" edition. Geneva: World Health Organization; 2018" and can be provided to who requires the World Health Organization certificate.
In this table you can see the differences between the models. The unspecified characteristics do not see any differences between the models and therefore those of the main product are considered.
Model

L3Evo

L3EvoW

L3EvoEU

Engine 5HP
C7 / 2 strokes / 77 cc / 3,6 KW
Carburetor
Walbro cubic / Walbro with primer
Walbro cubic
Mixture tank
1,9 l
2,3 l
1,9 l
Liquid tank
18l / 12 l
12 l
Liquid flow
0 - 3,6 l/min
Controls on handle
depending on models
yes
yes